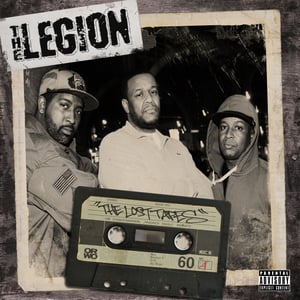 $

14.99
Straight from The Bronx, the home of hip-hop, comes the trio, The Legion (Chucky Smash, Molecules and Cee-Low). As signees to Black Sheep's One Love imprint, they debuted in 1993 with the brilliant underground classic, "Jingle Jangle" - an ill piano sample driven track with a highly quotable finishing verse from Dres of Black Sheep. The Legion followed up with the sweet laden Roy Ayers looped up single, "Legion Groove" and their now much sought after debut album,"Theme + Echo = Krill" (1994) featuring affiliated acts like Black Sheep, Chi-Ali and Showbiz & A.G.
After a hiatus for a few years, they resurfaced with the 12-inch, "Street Thing / Caught Up" (1998) on Legion Records/Fat Beats and some appearances on Dres' "Sure Shot Redemption" album. Then the Bronx trio went quiet.
While Molecules handled dope production for Dres, Mos Def, Milano, Amanda Marshall and even appeared on P!nk's "Stupid Girls", Chucky Smash's been hosting radio shows in the BX. The three long-time friends never stopped doing music together but it was already 2011 when the trio finally made a dope comeback on the Beneficence collabo track, "Aim, Fire, Spit".
"The Lost Tapes" ain't only a simple compilation of rare and unreleased tracks, it's rather a musical documentation of a group that has been staying in its lane creating raw, uncut, and uncompromising Bronx flavor for more than two decades now. So this 20-track strong album includes the rare 12" single only "Freestyle Demolition" from 1994, rare old and unavailable on CD tracks, unreleased joints and instrumentals plus 3 brand new bangers ("For You", "Stereo", "Stereo [Remix]"), produced by The Legion, Buckwild, and Confidence.
Take a trip down memory lane with these dope Bronx tales and street beats from The Legion and stay tuned for a brand new album plus the Molecules & Showbiz "A Bronx Tale" EP.
Tracklisting (please note: all tracks produced by The Legion, except where noted):
1. Straight Flow
2. Automatic Systematic
3. Stereo (prod. by Buckwild)
4. Street Thing
5. Live On Arrival (feat. E-Dub, Ralo Square & Droopy Dog)
6. Sky's The Limit (Feat. Dres of Black Sheep)
7. Caught Up
8. Freestyle Demolition (feat. Droopy Dog)
9. Keep Your Eyes Open
10. Street Truth
11. Aim, Fire, Spit (feat. Beneficence)
12. For You
13. Revenge (prod. by Showbiz)
14. Stereo (Remix) (prod. by Confidence)
15. Straight Flow (Instrumental)
16. For You (Instrumental)
17. Stereo (Instrumental)
18. Revenge (Instrumental)
19. Stereo (Remix Instrumental)
20. Freestyle Demolition (Instrumental)