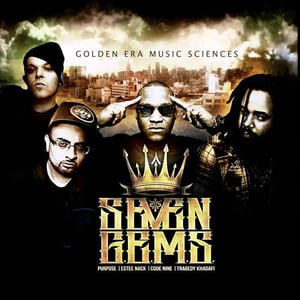 $

19.99
After releasing classic albums by Rashad & Confidence, Beneficence and Purpose & Confidence during the last couple years, Ill Adrenaline Records strikes again with another powerful and mind blowing full length. Hailing from Lynn, Massachusetts, the Tragic Allies trio Purpose, Estee Nack and Code Nine team up with Queensbridge veteran Tragedy Khadafi aka Intelligent Hoodlum to form the group "7 G.E.M.S.".
The album entitled "Golden Era Music Sciences" delivers that raw, sinister, dusty and mellow-dramatic 90's boom-bap retro style sound, laying the perfect platform for the message of enlightenment, elevation and expression the group offers its listeners on this 16-track heater.
While super-producer Confidence handled all the production on the critically acclaimed underground classic "The Purpose of Confidence" (Ill Adrenaline Records, 2012), Purpose just concentrated on showcasing his excellent and sharp lyrical rhyme skills. But this time the Tragic Allies frontman (who already worked with Killah Priest, Big Shug, Bronze Nazareth, Epidemic, etc.) is not only able to shine on the mic, he also takes charge of stellar beats for the entire album.
Featuring underground icons Roc Marciano, Shabaam Sahdeeq, Killah Priest along with up-and-coming lyricist Relentless and top-notch beatboxer Choppa, "Golden Era Music Sciences" stands for its 100% trademark Tragic Allies sound, that, infused with the mind and vibe of pioneer and Queensbridge legend Tragedy Khadafi, makes this album look like a sure bet for one of 2013's hottest rap underground albums.
Tracklist:
1. Intro (King Asiatic Allah)
2. Without You
3. Dem Get Murda
4. No Good
5. I Know I'm Reckless
6. Presume The Unpredictable feat. Roc Marciano
7. Gems
8. Men Of Honor feat. Relentless
9. Time To Ponder
10. The Annointed
11. Vantage Point
12. Beatbox Interlude feat. Choppa Tha Beatboxa
13. Wild Militants
14. Foul Thesis feat. Shabaam Sahdeeq
15. Verge Of Defeat feat. Killah Priest
16. Aura Snatchers (Remix)